Ultimate Beginners Guide To Pressure Washers
1.What is a pressure washer?
Pressure washer or jet washer is a device that produces very powerful water supply to eliminate exterior/interior dirt. It is more efficient than traditional brush and uses a lesser amount of water. Basically, it is a motorised hosepipe.
A conventional pressure washer has got either gas-fuelled engine or electrical motor that switches/turns on the water pump. Then the pump speeds up the water and generates powerful water. When the trigger of the hose pipe is pressed, the water mixes with the air and comes out through the hose pipe nozzle.
2.Check the manufacturer's manual
Every manufacturer has their products manual coming with the device. Some provides on printed paper others online. Our recommendation is to read it at least once before starting to use the device. There might be options that varies the common use of any device. For example turning the machine on, safety check etc.
3.Check Hose
A ¾" hose pipe is attached with most of the pressure washers. It is important to check whether the hose pipe is  delivering enough gallons per minute (gpm) or not. This could be checked by using a big bucket and calculate how long it takes to fill up the bucket. We advise you to wear relevant dress as there is chance that you might get drenched. It's also recommended to wear glasses as water and dirt will be flown on the air due to the high pressure. Also make sure that house and car windows are kept shut.
4.Gas or Electric Pressure Washer
Electric pressure washers are cheap , light weight , low cost to maintain and very easy to use whereas Gas–powered pressure washers  are more powerful to accelerate water and efficient to remove dirt but expensive. Moreover, Gas–powered pressure washers have got heavy-duty parts.There are both pros and cons to choosing gas/electric pressure washers. Which one is the best for you depends on a number of factors.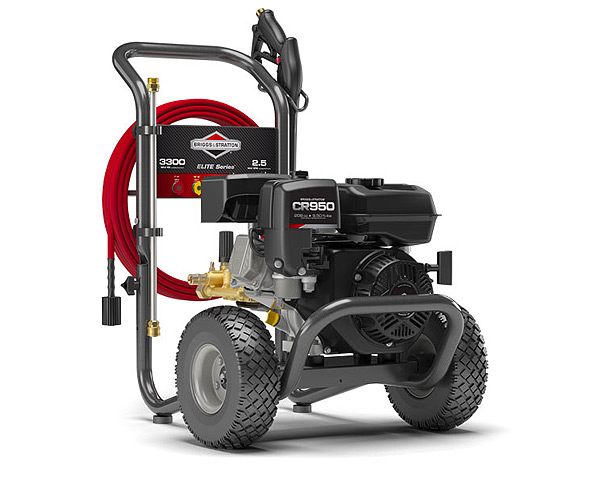 5.Gas pressure washers
Pros:
-Gas powered washers produce higher pressure. As a result , it can clean larger areas faster and more efficiently than the electric washers.
-Cordless. So, you do not need any power outlet to use this type of Power washers.
– You may not need detergent. Since it offers higher pressure and if you choose hot water option, you may not need any detergent to remove dirt.
Cons:
-They are heavy and noisy.
-They are louder and heavier than the electric version. Moreover, it is not possible to use the gas washers  indoor or covered areas.
-They require consistent maintenance and produce emissions.
6.Electric pressure washers
Pro: This pressure washer uses electric current. This is idle for indoor/ small spaces like car park, garage, alley way etc. It can produce 1300 and 2000 psi(pounds per square meter).
Pros:
-They are light and easy to use.
-Do not produce emission. Since it uses electric current, you don't need to change oil.
Cons:
-You need power source to use this washer. Power cable can be a pain as power cord will follow you.
-This is not a good option to clean large or heavily dirty areas as it does not generate higher pressure .
7.What Size Pressure Washer is Best?
It is very important to choose the right size of the engine for both gas or electric pressure washers. The engine of the washers offers the total power of the machine. The larger the size of the engine, the water pressure level of the washers will be higher.
There are four types of pressure washer engines. The details of the pressure washer engines are given below:
Light duty: This engine generates the below 2000 PSI water pressure level. This size of the engine is suitable to clean the small exterior areas for example: small deck or patio, garage etc.
Medium duty: This engine produces between 2000 and 2800 PSI water pressure level. This unit can be a good option to clean the medium sized driveway, car park, garden fences etc.
Heavy duty: If you would like to clean the large concrete areas , then you should choose heavy duty washers as it offers washer pressure levels of between 2900 and 3300 PSI.
Extra-heavy or professional duty: This type of washers offers washer pressure levels of over 3300 PSI. If you would like to carry out a lot of pressure washing or would like to do pressure washing business, then you should go for this machine.
You should also consider the GPM of the pressure washers before purchasing.
8.Which Nozzle is Best for the Job?
The nozzle of the pressure washers determines the direction of the water flow. This direction of water flow is important cause higher pressure will offer better cleaning whereas higher stream will provide better rinsing. The low water flow nozzle will take longer to clean the dirt.
Picking the wrong nozzle could cause the following damages:
Peel off the car paint
Damage the patio
Make holes in the concrete which might be very costly to repair
As a result, it is vital to choose the right nozzle as it creates the pressure in the pressure washer.
The details of the universally colour coded pressure washer nozzles are given below:
0° Red Tip Nozzle – Maximum Blast
This tip is rarely used as the way it creates the water flow may cause a lot of damage on the surface. Moreover, it takes longer to clean any surface. Experts advise not to use this tip to close to this surface. However, this tip could be a suitable choice on the high intensity concrete surface.
15° Yellow Tip Nozzle – Medium Stripping
This tip is suitable for cleaning the surfaces for painting or concrete areas around the house . This tip provides 15-degree angle water spray. This tip also should be used from right distance to clean the dirt efficiently.
25° Green Tip Nozzle – Gentle Lifting and Cleaning
This tip is the most popular and used one to clean surfaces around the house. It provides a nice water stream and cleans the surfaces quicker as well. It will be a good choice for boat, car, patio etc.
40° White Tip Nozzle – Minimum Spraying
This tip is used on the fragile surface like windows , blinds and siding.
Soaping Black Tip Nozzle
This tip produces 65-degree angle spray. This tip spreads the water so gently that it will not eliminate any dirt from the surfaces. This tip is only used to wet the surface.
To choose the right nozzle, you can consider the following factors:
Start with the easy to use larger angle nozzle
Keep adequate distance from the hose pipe nozzle to understand the effectiveness of the nozzle.
Examine the nozzle performances on the small surfaces first.
9.Do you need detergent or other supplies?
If you use gasoline powered washers , you may not need detergent. Since it offers higher pressure and if you choose hot water option, you may not need any chemicals or other supplies to remove most of the dirt. However, if the area is not cleaned for a long time, ex. Wooden deck, patio, fences then mould may activate and spread. So, it is recommended to use a washer with a detergent tank . Moreover, brushes , rags could be very useful accessories while using the power washers.
10.Should you work from a ladder?
Experts do not recommend using the pressure washers from the ladder. But if you still decide to use the pressure washers from the ladder then make sure that you position on the ladder is secured. However, we advise you to learn how to operate the machine on the ground first.
11.Start the washer?
When you want to use the pressure washer, it is important to follow the set-up process correctly. Otherwise , you might damage the pressure washer.
At first, check the water strainer to make sure that it is connected in the right place and there is no dirt into the water strainer. Hose must connect with the washer airtight. Choose your nozzle and connect it correctly with the hose. Turn on the water and press the trigger to speed up the air into the hose. Start the washer and wait few minutes to warm up the machine and hose to fill with the water. When you complete these steps, your pressure washer is ready to use.
12) How to Pressure Wash
Experts recommend taking adequate preparation to carry out the pressure washing as it could be a very risky and chaotic job.
Some useful suggestions are given below for new users:
Wear eye and hearing protection. Pressure washer makes loud noise and due to high pressure, it will fly dirt and water around you.
For safety reason, it is recommended to hold the wand with both hands.
Make sure that you are cleaning surfaces by keeping the spray tip at least 18 inches away from surfaces to lower the damage risk.
12-a) Wet the surface with plain water at low pressure.
Every pressure washer unit offers different technique to set the low pressure. Use the nozzle from the recommended distance to avoid surface damage. Use the washer in a way that it washes every corner to avoid inconsistent effect.
12-b) Loosen dirt with the medium spray setting and higher pressure
Set the pressure washer unit with the medium spray and higher pressure setting while cleaning the wooden deck and fence.
12-c) Detergent should be used at an early stage. Leave the detergent on the surface for few minutes and then start washing.
12-d) Set the pressure washer with a wide spray and low pressure setting to rinse the surface only with plain water.
12-e) Turn off the water and make sure that there is no water left inside the hose before detaching the hose from the machine.
13) Cleaning a wood deck or fence
Before you start any washing of your wooden deck or fence, it is recommended to visually inspect the condition of them. Do they have any crack on them? Any sun damage or mould? Or, you need to change few boards as they are damaged or rotten. Remember, the colour of the new board will be different from the old one as they are new.
After replacing the boards, you should consider the following two factors:
Cleaning and maintenance : If the wooden deck or fences are only dirty, then we recommend you clean those with brush, detergent, and ordinary garden hose pipe.
In that way, you will be able to save cost . Moreover, since the deck or fences are still in good condition, by using pressure washer, you may damage those.
Staining, painting, sealing, resurfacing:
If you are planning to revamp  the deck or fences for stains or peeled off paints then you can use deck cleaning materials , a scrubber or a hose. Make sure that deck or fences are completely dried out and then apply sealant or paint on them.
However, if you are still not happy with the outcome, then you can consider about using pressure washer.
Pressure washing can be a great choice to give deck or fences a new life. The steps of renovating deck or fences are given below:
Step 1: Remove all the furniture and plant pots from the deck
Step 2: Use a brush or broom to get rid of any loose leaves or dirt
Step 3: Set the pressure washers. Connect the pressure washer with the power socket. Connect the hose with the power washer. Use a green-tipped nozzle with a 25-degree spray tip.
Step 4: Wet the surfaces thoroughly. You can apply detergent soak in this stage to loosen the dirt to clean the deck / fences easily. Use a scrubber to scrub the surfaces.
Step 5: Turn on the pressure washer. Test the pressure washer in a small area. If all is OK, then start washing from the corners/sides.
Step 6: Keep the nozzle 60 cm or 2 feet away from the decking surfaces / fence boards to avoid damages. Keep the nozzle at least 15 cm or 6 inches away from the deck/fences at all time. You can go closer if you want. But too close to surface may damage the boards.
Step 7 : Keep the nozzle moving. Keep an eye on time. Don't wash a particular area for a long time. It might damage the wood.
Once you have finished pressure washing, leave the deck / fences at least for a day to dry out completely. Then you should use paint or sealant to protect the wood.
14) Cleaning concrete
It is easy to spot stains or dirt on the concrete areas. If you do not clean your driveway or walkway regularly, then dirt will build up and will damage the corners of your driveway or walkway.
If you want to pressure washing your driveway, walkway, or patio , you should consider the following things for better result:
Select a washer with a pressure rating of at least 3,000 PSI which can offer High GPM.
Yellow-tipped nozzle with 15-degree spray tip
Detergent soak which is suitable for concrete
Protective equipment – gloves, glasses, and hearing protection etc.
Concrete sealer.
First brush the area thoroughly. Then wet the concrete areas and apply chemical solutions and scrub the areas. Thoroughly sweep and brush off the surface before you start. Turn on the pressure washer and start washing the concrete areas evenly. Take extra care about the flying debris. When you have finished washing, then wait for a day to dry out the areas completely. Apply concrete sealer where required.
15) Cleaning siding
Pressure washers are  perfectly safe for cleaning siding siding, especially vinyl siding.
When you start cleaning siding , set low water pressure so that water does not get behind your siding and damage the surface later.
You should consider gas pressure washer for cleaning siding to reach high and hard to reach spots.
By following the below steps to wash your siding, you will be able to save time and cost and will be less exhausted:
Step 1: Use pressure washer detergent
Mixture of soap and water is always better than the water on its own. You can inject cleaning solutions into most of the pressure washers. You should only use approved solutions for pressure washers use as non-approved solutions may damage the machine as well as harm the environment and surface.
Step 2: Use a brush or scrubber for hard or hard to remove spots
Step 3: Apply the cleaning solutions on the siding for 5-10 minutes as solutions will make the spots loose to remove. Then brush the spots.
Step 4: Start from a distance
When you start washing the siding , make sure the nozzle stays at least five feet away from the siding. If you get too close or too strong , it may damage your siding. You can get closer and increase the water pressure when it is required. But don't wash same place for long from a closing distance.
Step 5: Spray your siding clean
Take extra care when you clean the loose or light elements on the siding. High water pressure can knock down the loose bricks from the side. Experts recommend to spray water on the loose fixtures.
Depending on the size of the house it may take few days to clean the siding. Do not rush. Take your time. You should clean your siding once in every couple of years.
16) The Bottom Line (Finishing)
Remember you clean your house or wooden deck, fence, driveway, or siding by using a brush and a bucket of water in good old days? Fortunately, those days are gone. Now we have pressure washers to do the same job more efficiently.
Pressure washers can be a fantastic solution for cleaning jobs which will be difficult to do with traditional brushes and hose. Moreover, you should take extra care when you use it on light surfaces as high-water pressure may damage the light surfaces. Pressure washers do a nice job of wooden deck and fences as well as concrete. However, if you are still intimidated by the power of pressure washers, then bear in mind that it is completely safe to use !
You can view more details on some of our recommended power washers: